DOCTORAL COLLOQUIUM EURAM 2022
Publié le 24 novembre 2022
–
Mis à jour le 24 novembre 2022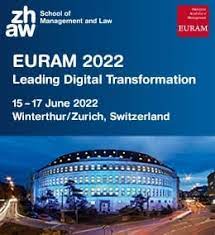 The EURAM 2022 doctoral colloquium was held on June 13 and 14, 2022 as part of the EURAM international conference "Leading the Digital Transformation" 2022. Lou-Lyne, doctoral student and mmber of the project D-TECHNOSS presented her research work.
With the article "
Understanding of consumers' behaviourstowards ecodesigned products and services
", Lou-Lyne presented a general description of his doctoral thesis whose objective is to understand consumer behavior towards eco-designed products and services. In his presentation, Lou-Lyne exposed the contributions of the scientific community on the notions of consumer, sustainable development, sustainability strong and ecodesign, as well as their interrelationships, to better understand the consumer implications of sustainable development and ecodesign approaches. Lou-Lyne finally proposes a model detailing the expected empirical results of the research.
This was an opportunity for Lou-Lyne to showcase his research and scholarly mission to different audiences; as well as connecting with an international network of academics and other beneficiaries and users of its research.
For more information about the event
click here.